Activities
Rajasthan Vanvasi Kalyan Parishad REC Foundation New Delhi
Construction of Hostel Building having 6 room, kitchen, dining hall, prayer hall and toile block for schedule tribes (vulnerable) weak section of the society at KELWARA (KUMBHALGARH) RAJASTHAN.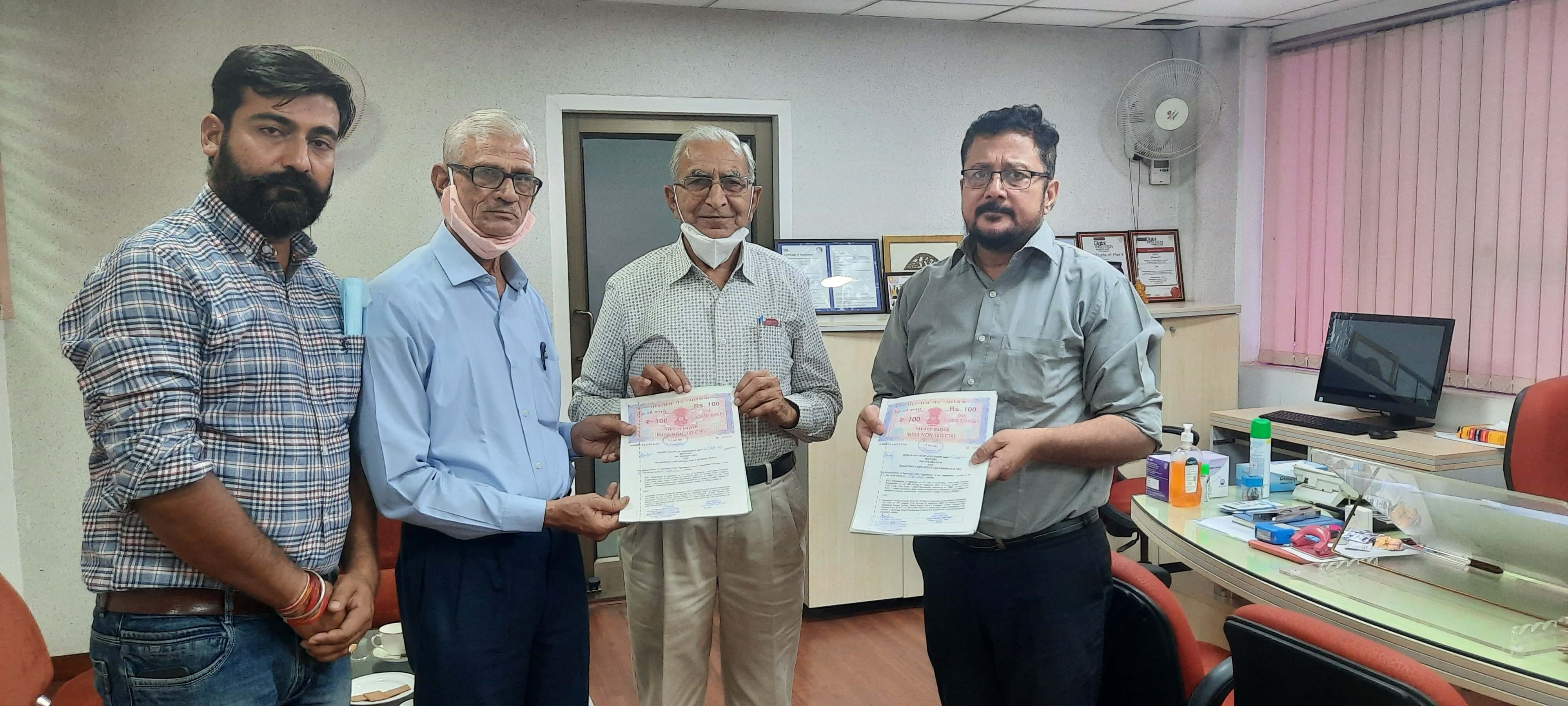 Ashram Hostel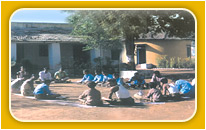 One of the prime objectives of the Rajasthan Vanvasi Kalyan Parishad is to run Ashrams (hostels) in the remote areas where children are deprived of education and development .These children are groomed to bring out their hidden talents nurturing their innate intelligence and preparing them to lead their community into the main stream of development and actively contribute towards building a strong nation.
Objectives
No tribal child should be deprived of education.
Build a strong network and sense of cooperation with the local village community.
Formation of a village committee whose prime lookout is village development and smooth functioning of these schools.
Organization of fortnightly bhajan mandli, sports development activities, establishment of faith awakening centres and implementation of women savings groups related schemes.
Proper plantation in and around the village area, and availability of appropriate water facilities for drinking and irrigational purposes.
Efforts to prevent any kind of anti-social and anti-national activities going in the village.
Features of Vidya Mandir
Maximum capacity : 30 - 35
Number of Teachers : 1
School Hours : 3-4
Bal Sanskar Kendra (Non formal Value based Education Centre):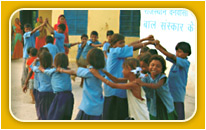 Majority of the tribals used to live below the poverty line. The root cause of poverty is their illiteracy and ignorance. Through Vanvasi Kalyan Parisad in the hermitage and the huts, on the mountains and in the valleys, in the forlorn fields, a window is opened through 'Education'. Efforts are afoot to spread formal and non-formal education and provide healthy environment for creating spirit of self-service and service to the society and country.

These centres have been set-up in the remote villages To help in building all-round personality and character of the children to sow the seeds of nationality in them. Local young women at least 10th grade are selected, trained and deputed for necessary roles. The two hour's teaching programme includes prayer, mantra chants, songs and poems, storytelling, sports, value education like importance of cleanliness, language learning and other basic knowledge.
The teachers of these centres are also responsible to organize either monthly or fortnightly meetings of the villager, especially including women. The basic aim of these meetings is to discuss various problems faced by the local people with an attempt to resolve them, and talk about the development and co-operative programmes.
Three Fold Work
Inculcate ethical value
To build all-round personality of the child
Aid them in the tutorial field mainly in Hindi, Maths, Science and English.
Features of Bal Sanskar Kendra :
15 Centres in 1 Unit.
Provincial in-charge monitors and evaluates all centres once in a month.
Bi-monthly meeting to discuss and resolve issues at centres.
Health Care
| | |
| --- | --- |
| Even after 60 years of independence the tribal belts lack medical facilities. Due to lack of medical facilities, proper diet and unawareness. people have to face pain, suffering and untimely death. | |
With aims to reduce health related problems and to create awareness regarding healthy living as well as to educate them on various medical problems, parishad organizes weekly medical camps, runs awareness programs like AROGYA RAKSHAK YOJNA and Tuberculosis Control Programme in remote villages. Moreover, an ambulance has been provided for emergency issues at our Kotra centre.
Arogya Rakshak Yojana
Arogya Raksha Yojana aims to better the quality of life for tribal society through a number of healthcare initiatives thereby reducing the severity of poverty resulting from health related cotastrophes.
Features :
Provides 1 medical kit which has 18-20 medicines for primary aid non-reactionable
Medical kit contains medicines for a month and can be refilled on a monthly basis.
1 Health worker group will include 15 centres.
Monthly stay of Provincial Medical Project Committee in-charge at the centres.
Bi-monthly meeting at centres and bi-monthly monitoring of the ongoing work.
Highlights :
1 Permanent hospital in kotra where weekly medical camp is organized - followed by further treatment at higher level.
Build a strong and healthy village community through Arogya Rakshak Yojana.
With help of health worker, there are strong attmpts to -

Build capacity of village communities.
Economic development of the village.
Sustain consciosness towards religion and nation.
Prevent any kind of anti-religion and anti-nation activities.
Free people from superstitions and any kind of addiction.
Tuberculosis Control Program
T.B. is rampant and a major killer disease in tribal regions and nearly 4% of the population is affected by radiologically active T.B. of the lungs. T.B. needs a long-term treatment (8 to 12 months) with expensive medication and nutrition. Most of the poor tribals cannot afford such high expenses. One-third of all active T.B. cases are sputum positive and contagious. T.B. has destroyed many families shattering their economy and human social relations in the region.
Government sponsored T.B. eradicating program gives least cure rate because of costly and time-consuming treatment, because of patients malnutrition, alcoholism and smoking, because of their ignorance about the necessity of uninterrupted treatment and because of want of the desire and zeal to live. With no hope, no confidence the prevailing ethos was that of helplessness and resignation. The whole scenario was discouraging. It was in this backdrop that the Rajasthan Vanvasi Kalyan Parishad accepted the challenge of mobilizing masses for controlling T.B. in the year 1992.
Nutritive high calory food packets are also provided along with medicine to the patients. From 1992 to 2001 this program resulted in giving 89-64% cure rate. 3892 patients were cured. Because of dot programme running by goverment we had to waind up. But now it is a regular feature to treat such Patients.
Economic Development :
Rajasthan Vanvasi Kalyan Parishad, with its vision of overall development of tribal villages, aims to make them self-supporting and well educated.
Work on a well directed path for the necessary projects in selected villages.
Recharging of dried wells, deepening of ponds, wells or lakes and building of small check-dams (annicuts) for better availability of water.
To Construct percolating tanks on hills to collect the rain water. This rain harvesting helps in growing trees and grass fields for the cattle.
High breed seeds are provided to the farmers in order to get best agriculture return.
Workshops and camps are organized to enlighten the farmers regarding new technology in farming, preparing organic manure, high quality seeds and plants.
Progress:
Construction of total 23 annicuts in peepalkhoont Panchayat Samiti and Kushalgarh tehsil of Banswara district, and Kotra tehsil of Udaipur district which led to significant rise in water level and better availability of water for irrigational purpose. Farmers were able to saw Kharif and Rabi crops due to ample water supply.
Successful installation of 16 diesel pump sets and completion of 13 water management projects in Banswara district which led to an additional 250 acre land for cultivation.
Kotra tehsil of Udaipur district has 2879 wells deepened and 250 wells cemented for better storage and long term availability of clean water.
Better harvest of fruits and vegetables increased income of farmers leading to better economic conditions.
In Devala Panchayat through Sitafal Sahkari Samiti Sitafal are Purchased with 2 times high rates than the market value and sold to companies like Vadilal Ice-cream and profit too is given back to the farmers.
In order to improve the agriculture conditions of farmers in Kotra tehsil of udaipur district, 1 pump set is provided to a group of 4-5 farmers at low interest rates. A total of 23 pumps sets have been distributed till date.
Women Empowerment :
| | |
| --- | --- |
| Women form 50% of the society no development is complete if women are not part of it. It is very crucial to build self confidence, self dependence and self esteem among women of all communities. Vanvasi Women Groups at Parishad deals with various aspects of women. | |
Women's Activities in Tribal Areas :
Form women groups and timely organization of regular meetings.
Motivation meetings to form self help groups and promote small scale production programs in various fields like packaging of organic food-grains, embroidary and tailoring etc.
Conduct awareness camps and workshops in order to bring forward the innate qualities of tribal women. They act as platforms for women to express their views on issues like alcoholism, blind faith and beliefs and atrocities.
Education of their daughters along with their sons.
Build a shared sense of feeling that no one in their village should starve of hunger.
To prepare their mind-set against any anti-social and anti-national activity going on in their village.
Activities in Urban Areas :
Create awareness about the tribal areas in public among city dwellers by holding meetings amongst various groups.
Promote fund raising activities in cities.
Organize value-based non-formal educative workshops in various tribal girls groups studying in cities and towns.
Provide guidance and assistance to women coming from the tribal areas for medical help in hospitals.
Cultural Development
Cultural development centres are carried on by local saints, priests, artists etc. The main moto behind such activities is to protect their identity, beliefs, religious faith and culture. Besides this, by uniting and bringing the villagers on one platform a kind of awareness is developed to rise above cast and creed, create a brotherly spirit and, they are encouraged to work towards the development of a strong society and fight against any kind of anti-national activity like conversion of one religion into another.
Work in Cities and towns :
Organize tour programs in vanvasi areas to have a glimpse of their life-style and activities in the field.
Organize camps and workshops for part-time honorary workers having their motto only service to Vanvasi in order to have clear vision about the work.
Organize seminars on various subjects on Tribals.
Provide Assistance to the tribal college students studying in cities and towns.
Contact tribal people residing in urban areas and encourage them to join Vanvasi Kalyan Parishad in order to think for the upliftment of village dwellers.
Run various types of projects like Deepak Yojana, Birthday Yojana to raise funds.
Hold various programs like Holi-Milan, Deepawali Milan, Van-Bhoj etc.
Systematize and organize various camps and workshops conducted for workers and Karykartas.
Sports Development :
Living close to nature the tribal children and youth are instinctively interested in games and sports. Hard and challenging life in forest gives them innate strength and vitality and proficiency in several sports, games, archery and athletics.
With this realization sports activities were started in 1987. Under this program boys and girls are selected and trained at Rural Sports Centers in athletics, archery, kabaddi, kho-kho and races etc. Competitions are held at various levels, i.e. at block level, district level, state level annually and finally at national level once in four years.
These competitions have proved to be the biggest non-official Voluntary World Sports Events.
The sports development activities help in strong body building and high spirit of nationality such youth force can be utilized in preventing their society from all ills and anti-national activities.
We feel proud in informating that vanvasi children have been able to receive awards in sports at both national and international levels. It is our constant endeavour to develop and promote sports programmes for they from an integral part of overall personality development.